Tokens
Polygon Price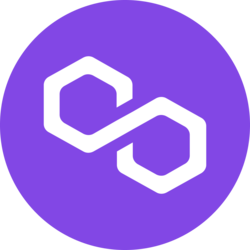 Polygon
MATIC
About Polygon (MATIC) token
What is Polygon (MATIC) Token?
Polygon (previously known as Matic Network) is a well-structured and user-friendly platform designed to address scalability and infrastructure development challenges on the Ethereum network. At its core is the Polygon SDK, a modular and flexible framework that enables the creation of various types of applications. With Polygon, developers can build Optimistic Rollup chains, ZK Rollup chains, standalone chains, or any other infrastructure they require.
Polygon transforms Ethereum into a full-fledged multi-chain system, often referred to as the "Internet of Blockchains." This multi-chain ecosystem, similar to projects like Polkadot, Cosmos, and Avalanche, combines the advantages of Ethereum's security, vibrant ecosystem, and openness. It aims to cater to diverse needs within the developer community and expand its ability to handle a larger ecosystem while maintaining compatibility with the existing Plasma-POS chain.
The native token of Polygon, $MATIC, plays a vital role in securing the system and enabling governance. As Polygon continues to develop its core technology, the MATIC token will remain an integral part of the platform's ecosystem.
Where Can You Swap or Trade Polygon (MATIC)?
You can swap or trade Polygon (MATIC) on CoW Swap, the first trading interface built on top of the CoW Protocol. CoW Swap is a Meta DEX aggregator that brings together decentralized exchanges (DEXes) where MATIC is tradeable. It provides a seamless trading experience by allowing users to buy and sell tokens using gasless orders settled peer-to-peer among its users or through on-chain liquidity sources.
CoW Swap also offers Maximal Extractable Value (MEV) protection, safeguarding users from potential profit extraction by MEV Bots and validators. By aggregating DEXes and leveraging the CoW Protocol, CoW Swap ensures users can access the best prices for their MATIC trades. To swap or trade your Polygon (MATIC) tokens, visit CoW Swap and enjoy the benefits of this innovative and user-friendly trading platform.