Tokens
Flux USDT Price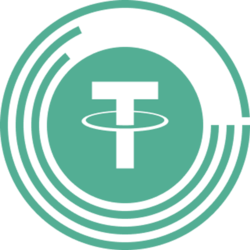 Flux USDT
FUSDT
About Flux USDT (FUSDT) token
What is fUSDT (fUSDT)?
Welcome to the world of fUSDT, an exciting asset supported by the Flux Finance Protocol. Let me tell you a fun little secret: fUSDT isn't just your typical token, it's a fork of Compound V2's cTokens with a "moo-re" to offer! This clever token is part of the fToken family, which are all about representing balances supplied to the protocol, with some extra features to support permissioned assets. When a user deposits their USDT on Flux Finance, voila, fUSDT is minted!
The beauty of fUSDT lies in its dynamics. When deposited, your USDT doesn't just sit around; it becomes available to borrowers and in return, you earn the USDT supply rate. Here's where it gets even "moo-re" exciting: fUSDT increases in value relative to the underlying USDT, meaning over time you can redeem more assets as interest is earned. However, keep in mind that the interest rate you earn depends on the market's utilization—aka how much of the deposited assets have been borrowed. We all love a token that works hard, don't we?
Let's dive into a bit of history, shall we? Flux, the home of fUSDT, was introduced as a decentralized lending protocol back in January 2023. Initially developed by Ondo Finance, a software development firm in DeFi, Flux was later sold to Flux Finance. Governed by the Ondo DAO, Flux protocol is like a democratic nation where ONDO holders vote to upgrade its code and tweak its risk parameters. In the genesis vote of February 2023, fUSDT was among the first assets to be selected, alongside fDAI and fOUSG, marking the start of a fascinating journey.
Where can you swap or trade fUSDT (fUSDT)?
Wondering where you can swap or trade fUSDT? Well, your favorite CoW is here to save the day! This platform aggregates all the DEXes where fUSDT is swappable, making your trading experience smoother than ever. What's more, CoW Swap ensures MEV (Maximal Extractable Value) protection. Just think of it as an ultra-intelligent system that fetches you the best prices for trades, settling via on-chain AMMs directly or via DEX Aggregators. Remember, your tokens are more than just assets, they are opportunities. So get ready to seize them on CoW Swap!